Pat yourself on the back. You've made it through this week without killing someone at the polls. Grab a glass of vino and read my Friday's Letters.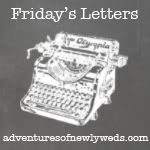 Dear Weather,
please make up your mind. As much as I love the cooler air, I am beginning to look like Madame Menopause in all her hot flash glory. Sincerely, me.
Dear Chip,
I love having you in bed with us, but can you
please
move up a little higher so I can stretch out my legs? The fetal position is only comfortable for like 15 minutes.
Dear Chip,
by
farther up
I did not mean my pillow...I still love you though.
Dear Neighbors
, please grow some
cojones
and walk + curb your dogs, or you will learn what
Return to Sender
means. I'm tired of finding your beasts' mud pies in the grooves of my sneakers.
Dear Whitney,
the fact that you wear yoga pants to work makes me swoon. I may have the
slightest
of girl crushes on you.
Dear Pinot Noir,
I won't tell my husband of our love affair if you won't. (pinkie swear.)
Dear Blogger,
thanks for catering to my addictive personality. I can't stay away.
Also, here are my Friday Faves
Favorite Blogger:
Yeah, what's not to love? Seriously,
check her out
. Best thing since sliced bread.
Favorite sound clip:
Th
e
Pioneer Woman
's son's rendition of the word "juice bag." She's not as innocent as she looks, huh?
Favorite word:
'Nuff said!
Ok, It is waaay past my bedtime. That's all for now. Enjoy your weekend!
Be sure to check out these other blog link-ups I've hooked up with as well. I'm helping "Getting to Know You" weekend blog hop grow, so you can actually link up below!